" interdisziplinärer-Research & Choreo-Workshop" – diary dance-bodyscriptures & movingmind Methode
ist 2011 aus meinen persönlichen choreographischen Kreations-Ansätzen entstanden und meinen zwei grossen Leidenschaften: dem kreativen Schreiben ( movingmind) von "Tagbuch-Auszügen", als Impuls-Geber & kreative Ressource und der Tanz-Improvisation (bodyscriptures) als transformierendes Medium den Gedankenfluss direkt in die Bewegung zu transformieren und in Verkörperung direkt in Tanz- Sprache umzusetzen.. Ich arbeite mit dem Konzept mit Tanzschaffenden oder verwandten Sparten wie Schauspiel, Tanz-Theater-Feld,u.a. als interdisziplinäres Bewegungs-Research und Choreographie-Lab, mit starkem Fokus auf Potentialförderung und Persönlichkeits-Entwicklung der einzelnen Teilnehmer.
Jeder Mensch bewegt seine persönliche Lebensgeschichte…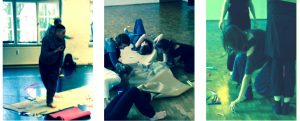 « Mit diary dance- bodyscriptures & moving mind, wird der Körper als dynamisches Instrument sensibilisiert; der Focus liegt dabei auf der räumlichen & anatomischen Präsenz und dem individuellen Vertrauen in die eigene Wahrnehmung der individuellen Bewegungsressourcen…»
 "Die Kunst der Tanz-Improvisation (bodyscriptures) lässt sich auf das Leben übertragen, als Training und Spiel-Raum für mentale Flexibilität (moving mind)  und Erfindungs-Neugier im Wandel der heutigen Zeit…"  Wir nützen eine Vielfalt von Tanz -Improvisationstechnik, ergänzt mit dem Potential von kreativem Schreiben & Gestalten, um biographische Inputs und individuelle Lebens-Geschichten tänzerisch auszudrücken; performative Ideen und  kreative Ansätze zu entdecken und damit den Einstieg in das kompositorische und choreographische Feld zu eröffnen.                                                                          
Mit der diary dance –bodyscriptures & movingmind-Methode verdichten sich Fragmente von persönlichen Tagebuch Momenten zu Tanz-Theatralen Szenen, Assoziative Wort-Spiele und Text Bruchstücke tragen uns in den Raum und verleihen unserer persönlichen Tanzsprache authentischen Ausdruck und lassen innere Welten in äusseren Bewegungs-Räumen sichtbar werden. Der Spiel-Raum für Tanz-Solis und Choreographische Landschaften wird eröffnet…! 
  "Du lernst Deine ganz eigene Tanz -& Bewegungs- Sprache zu vertiefen und zu ergänzen, Thematischen und biographischen Input direkt in  "instant –Kompositorische- Sequenzen" umzusetzen und entdeckst dabei neue Inspirations- Quellen für Deinen Weg als Tanzschaffende(r)/ Performer und findest spielerisch den Einstieg in deine persönliche Solo/ Choreograpische-Arbeit!" 
---

English Version:
…be part of the interdisciplinary- research & Instant- Choreo-workshop ………explore Eve`s unique research methode: diary dance-bodyscriptures & movingmind!
-we  explore personal biographical input as a source for interdisciplinary-movement research and various choreographic approaches to enhance personal and artistic development                       
– using the power of creative writing, to connect with your artistic flow and express the diversity of authentic movement and skills of expression
-we enjoy multimedia- improvisation skills, to create new landscapes of movement-languages
-transforming research moments into instant Choreo-work, try out performing spontaneity                                                                                        
-collaborate with open-minded artist and share & receive inspiration for body, mind and soul…
Workshop Insights:                                                                                                                                                
"……We all carry our own personal story within, that shapes us… and that moves us!
"We will use the diversity of authentic and technical dance movement, body-mind work and learn to create instant- Choreo-composition trough creative writing combined with the various field of improvisation, to creatively express and develop our personal themes and potential paths.
To sensitize our perception, to strengthen energy resources as a performing artist; by using intuition and spontaneity, and to find a deeper trust in our artistic and creative senses, to open our view for the inner and outer dance-performing-spaces.
The art of improvisation is transferable to life, as a practice for mental flexibility and inventive curiosity in our times.
Through playful discovery in the dance improvisation, which will be combined with bodywork, individual dance-solos and possible dance- scenes emerge that tell our own personal story and open up to a research-field for movement& choreography- material!